NCK Box / NCK Pro Android MTK v2.9.9 Update Released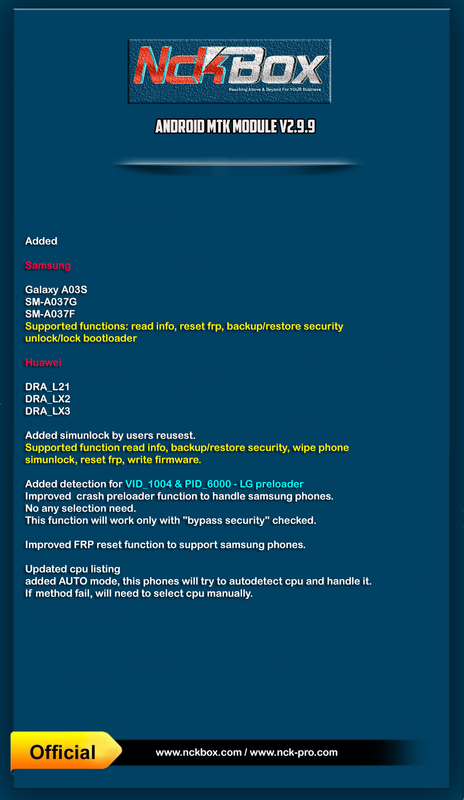 Added:
Samsung
Galaxy A03S
SM-A037G
SM-A037F
- Supported functions: read info, reset frp, backup/restore security, unlock/lock bootloader
Huawei - Added Sim unlock by users reusest.
- Supported function read info, backup/restore security, wipe phone, Sim unlock, reset FRP, write firmware.
Updated CPU listing, added AUTO mode, this phone will try to autodetect CPU and handle it.
If method fail, will need to select CPU manually.
Added detection for VID_1004&PID_6000 - LG preloader
Improved crash preloader function to handle Samsung phones.
Not need any selection.
This function will work only with "bypass security" checked.
Improved FRP reset function to support Samsung phones.
Official Website:
NCK Box
www.nck-pro.com
Download From Support Area
OR
Gdrive
drive.google.com
OR
Mediafire
www.mediafire.com
Before Use This Firmware Bios or Any File For Using Program Backup First Before Use my File
Do at your own risk im not responsible for any damage caused to your phone device computer etc.
all my file are no refund don't buy if you don't no how to use or any error
Default Password: forums-fastunlock.com